New pest detected! Is this the beginning of something bigger?
November 19, 2013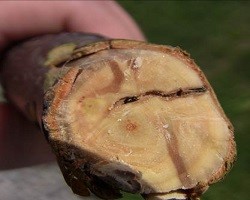 Black stem borer or Ambrosia beetles have been detected in 6 sites so far in high density tall and super spindle plantings, nurseries and established orchards where fire blight has also been detected. Dan Gilrein, Extension Entomologist at Long Island Lab, identified the species as "black stem borer", Xylosandrus germanus, which was first reported in Long Island in 1932. It is an Asian pest that attacks nursery trees, ornamentals, and, yes, apple. These bores are cited in literature to attack apparently healthy trees with 0.5 to 20 inch diameter trunks. They will also attack injured or stressed trees. They have not been noted in orchards as significant populations until this season. Art Agnello and Debbie will look into possible controls. The photo shows the tiny beetle excavating tunnels for the eggs and larvae to develop in the wood of the trunk.


Upcoming Events
No upcoming events at this time.
Announcements