Forced-Air Cooling to Improve Berry Quality & Shelf-Life
January 9, 2014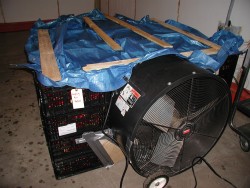 Berries are an extremely perishable crop, mainly due their brittle nature and high respiration rates. This is especially true of raspberries and strawberries, while blueberries, currants, and gooseberries are somewhat hardier. For every one hour delay in cooling of fruit after harvest, it is estimated that your produce will lose one day of shelf-life. Please review the .pdf file below.
Forced-Air Cooling to Improve Berry Quality & Shelf-Life (pdf; 276KB)


Upcoming Events
No upcoming events at this time.
Announcements