Update on Special Permit Training 2017
January 27, 2017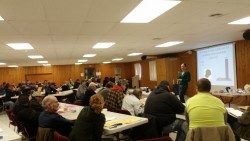 CCE has offered NYS DEC Special Permit Training (SPT) in New York for the last 17 seasons, training over 500 farm employees in 2016. Special Permit holders are legally authorized to apply specified federal restricted use pesticides (FRUP) without the direct on-site supervision of a NYS DEC certified pesticide applicator. Special Permits are valid for one season only and must be renewed annually.

The SPT Program is for workers who are not English literate, and therefore unable to sit for the pesticide applicator exam. Workers who are English literate should instead prepare for and take the exam to obtain their certified pesticide applicator license. CCE will be offering trainings to assist with this preparation, and growers are strongly encouraged to send qualified candidates to one of these supplementary training sessions, and then sit for the Private Applicator's Certification Exam.
Discussions are in process between CCE and DEC to obtain approval for Special Permit training in 2017.
Please stay tuned for the latest updates, and (we hope) the eventual announcement of training dates and registration information.
Regarding possible dates, please contact us if you foresee a repetition of last spring's delays in the approval of H2A applications, as we will take these delays into consideration in setting dates.
EPA final regulations covering pesticide applicator certification were issued in January 2017. A few things to be aware of:

The new regulations eliminate the provision that allows states to develop and implement Special Permit Training Programs, which will effectively cancel SPT at some point, but possibly not for another 2 or 3 years (see below).
The prior regulations will remain in force until such time that NYS DEC develops and implements the new regulations (which may take 2-3 years).
In the meantime, the Special Permit Training Program now falls into an uncertain state regulatory environment.
Cornell Pesticide Management and Education Program (PMEP) specialists are reviewing the newly published regulations, and we expect to hear more details from them shortly.
CCE staff is moving forward with SPT for 2017, but at this time we cannot be certain that an SPT program will be approved by the NYS DEC for 2017.
The situation may become more challenging for 2018 and beyond. As stated earlier, the new regulations will not allow the issuance of Special Permits by states. This means that those farm employees who have held a Special Permit in the past will have two options: to pass the exam and become certified private applicators, or lose the ability to legally apply FRUP's without direct on-site supervision.
The White House recently issued a statement that the implementation of all new pending federal regulations that have not already been published in the Federal Register will be placed on temporary hold for further review. The new pesticide applicator certification regulations were published in the Federal Register earlier in January but have not yet been implemented. Hence, depending on the exact legal language of the presidential directive, their current status needs further clarification.


Upcoming Events
How Profitable Will My New Orchard Investment Be? 1-day, hands-on skills class
February 7, 2023
Highland, NY
The Eastern NY Commercial Hort Team and the Lake Ontario Fruit Team are offering a 1-day, hands-on course at 5 locations in NYS in January and February for tree fruit farms on using farm financial information and other resources to make decisions about long-term investments or changes to their business. We will apply the techniques covered in the 8-part webinar series in December to scenarios using sample financial data from fruit farms in NYS.
Apple Leafcurling Midge IPM - Webinar

February 16, 2023
In recent years, the apple leafcurling midge (ALCM) has become an increasingly problematic pest in many orchards across the northeast.
Western NY Fruit Conference - "State of the Industry"

February 27 - February 28, 2023
Henrietta, NY
CCE-LOF are excited to bring you a muti-day fruit conference in WNY! This is replacing our Winter Fruit Schools. Tentative Agenda is now available.

Announcements