2017 Champlain and Vermont Young Grower Trip
August 29, 2017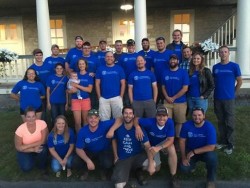 "The 2017 Champlain and Vermont Study trip was a great success and NY growers had again an excellent educational experience.
In addition, the friendships and professional relationships they made will be useful for their careers as orchardists in the near future.
Many thanks to all our sponsors, grower hosts, and to Matt Wells for organizing this successful event!"
To read a story about this trip, please visit:
http://www.growingproduce.com/farm-management/gennext-growers/young-growers-see-evolving-orchard-production-on-cornell-tour/?utm_source=knowledgemarketing&utm_medium=newsletter&utm_campaign=afgenews+08232017&omhide=true&eid=225318035&bid=1845738


Upcoming Events
How Profitable Will My New Orchard Investment Be? 1-day, hands-on skills class
February 7, 2023
Highland, NY
The Eastern NY Commercial Hort Team and the Lake Ontario Fruit Team are offering a 1-day, hands-on course at 5 locations in NYS in January and February for tree fruit farms on using farm financial information and other resources to make decisions about long-term investments or changes to their business. We will apply the techniques covered in the 8-part webinar series in December to scenarios using sample financial data from fruit farms in NYS.
Apple Leafcurling Midge IPM - Webinar

February 16, 2023
In recent years, the apple leafcurling midge (ALCM) has become an increasingly problematic pest in many orchards across the northeast.
Western NY Fruit Conference - "State of the Industry"

February 27 - February 28, 2023
Henrietta, NY
CCE-LOF are excited to bring you a muti-day fruit conference in WNY! This is replacing our Winter Fruit Schools. Tentative Agenda is now available.

Announcements