Agricultural Labor Survey!
February 28, 2018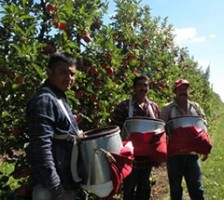 Please Take the Agricultural Labor Survey!

Available on-line at: https://tinyurl.com/farmlabormanagement
Agricultural Labor Survey: Help Us to Help You!
Do you manage employees on a farm? Do you need help recruiting and retaining good staff? Please take a
brief survey
and share important feedback that will help CCE develop improved resources for farm managers. The Cornell Small Farms Program, Eastern New York Commercial Horticulture Team, the Lake Ontario Fruit Program and the Cornell Farmworker Program are partners in this initiative.
Participants can
enter to win either a $100 gift certificate for Tractor Supply or a free Cornell Small Farms on-line agricultural course
of their choice in the coming year. One winner will be selected for every 50 participants.
Growing a great workforce can result in long-term benefits for your business. Share your management challenges and successes to help us develop effective management tools, such as on-line courses and videos, plain language guides, and workshops.
Learn about other programs and events, including the Improving Ag Labor Management Workshop series, at the Labor Ready Farmer webpage:
https://smallfarms.cornell.edu/projects/labor-ready-farmer/

For more information, contact: Kat McCarthy (
kmm485@cornell.edu
. Or 607-255-9911) or Anu Rangarajan (
ar47@cornell.edu
).
Thanks so much for your input!
The Labor Ready Farmer Project Team
Agricultural Labor Survey Flyer (pdf; 210KB)


Upcoming Events
Good Agricultural Practices (GAPs) Training & Food Safety Plan-Writing Workshop
February 2 - February 3, 2023
Newark, NY
Goals of this workshop:
Understand how GAPs (Good Agricultural Practices) impact produce safety, and how you can improve practices on your farm to reduce the risk of microbial contamination
Learn the difference between a FSMA Inspection and a GAPs audit, and learn what is needed to have a USDA GAP/GHP audit and the 2 types (Basic & Harmonized)
Begin writing a farm food safety plan that complies with a USDA GAP/GHP Audit
This workshop is targeted at Mott's growers who need to have a successful GAP audit for the 2023 harvest. However, all farms and organizations are invited to attend.
We will have several breaks, including a lunch break, scattered throughout the day, but feel free to step away whenever you need to. Lunch and snacks provided. Note: All times are approximate. Time spent on each topic varies depending on audience and questions/discussion. There will be time for questions at the end of each section and a final opportunity for questions when we close for the day.
Instructors Confirmed: Craig Kahlke (CCE-LOF), Robert Hadad (CCE-CVP), Caroline Boutard-Hunt (CCE-Yates), Judy Wright (CCE-Seneca), and Representatives from NYS Dept. of Ag & Mkts.
How Profitable Will My New Orchard Investment Be? 1-day, hands-on skills class
February 7, 2023
Highland, NY
The Eastern NY Commercial Hort Team and the Lake Ontario Fruit Team are offering a 1-day, hands-on course at 5 locations in NYS in January and February for tree fruit farms on using farm financial information and other resources to make decisions about long-term investments or changes to their business. We will apply the techniques covered in the 8-part webinar series in December to scenarios using sample financial data from fruit farms in NYS.
Apple Leafcurling Midge IPM - Webinar

February 16, 2023
In recent years, the apple leafcurling midge (ALCM) has become an increasingly problematic pest in many orchards across the northeast.
Announcements