Agricultural Labor Survey!
February 28, 2018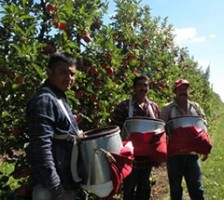 Please Take the Agricultural Labor Survey!

Available on-line at: https://tinyurl.com/farmlabormanagement
Agricultural Labor Survey: Help Us to Help You!
Do you manage employees on a farm? Do you need help recruiting and retaining good staff? Please take a
brief survey
and share important feedback that will help CCE develop improved resources for farm managers. The Cornell Small Farms Program, Eastern New York Commercial Horticulture Team, the Lake Ontario Fruit Program and the Cornell Farmworker Program are partners in this initiative.
Participants can
enter to win either a $100 gift certificate for Tractor Supply or a free Cornell Small Farms on-line agricultural course
of their choice in the coming year. One winner will be selected for every 50 participants.
Growing a great workforce can result in long-term benefits for your business. Share your management challenges and successes to help us develop effective management tools, such as on-line courses and videos, plain language guides, and workshops.
Learn about other programs and events, including the Improving Ag Labor Management Workshop series, at the Labor Ready Farmer webpage:
https://smallfarms.cornell.edu/projects/labor-ready-farmer/

For more information, contact: Kat McCarthy (
kmm485@cornell.edu
. Or 607-255-9911) or Anu Rangarajan (
ar47@cornell.edu
).
Thanks so much for your input!
The Labor Ready Farmer Project Team
Agricultural Labor Survey Flyer (pdf; 210KB)


Upcoming Events
No upcoming events at this time.
Announcements