Spring Meeting Resources
May 11, 2020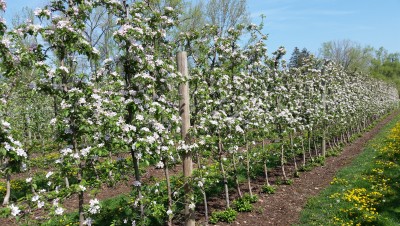 Resources from the 2020 spring meetings in pdf, recorded webinar, and video format will be linked here as they become available.
For Upcoming Meeting in this series please check https://lof.cce.cornell.edu/event.php?id=1429
Pruning Honeycrisp for Annual Production Video - Precision pruning is a strategy to reduce the flower bud number per tree to a pre-defined flower bud number through pruning. This video explains how to manage Honeycrisp flower bud load with an optimum of 1.8 flower buds (left after pruning) relative to final fruit number. Honeycrisp growers should use flower bud counts before and after pruning to precisely leave an optimum number of flower buds to guarantee annual production (and reduce biennial bearing) every year. The video also shows how to dissect and identify a Honeycrisp floral bud from a vegetative bud. This video focuses on Honeycrisp, however it contains basic pruning techniques that can be applied to all tall spindle orchards.
Spring Pink Meeting Videos held on May 11: Recording on YouTube is separated into 6 individual videos based on the topics below. See related slides in pdf file below.
Topics/Speakers:
Counting flower buds/readjusting bud load via pruning at pink, and blossom thinning considerations - T. Robinson and M. Miranda Sazo (live from a Honeycrisp orchard at VanDeWalle Fruit Farm in Wayne County)
Foliar sprays/ground applications/protocol for Peel SAP analysis of Honeycrisp - L. Cheng and M. Miranda Sazo
Early 2020 Season Disease Update - K. Cox
Spring insect management priorities - A. Agnello
Factors to consider to optimize pollination this spring - J. van Zoeren
Questions and answers
Spring Bloom Meeting Video held on May 21: Recording on YouTube. See related slides in pdf file below.
Dr. Terence Robinson will be providing recommendations for bloom thinning in biennial varieties (plus Gala), with up-to-date information based on assessments of freeze damage across the region.
This meeting is being sponsored by Andrew Dulude at OESCO INC. PO Box 540, 8 Ashfield Road (Rte 116), Conway, Ma. 01341 (413)369-4335 (w), (800)634-5557 (Toll free), adulude@oescoinc.com
Spring Petal Fall Thinning Recommendations Meeting Part 1 held on May 27. See related slides in pdf file below.
Presentation/Recommendations from Dr. Terence Robinson, Cornell University
Additional Info from Mario Miranda Sazo, CCE-LOF
Q & A
This meeting is sponsored by VALENT USA & VALENT BIOSCIENCES
Spring Petal Fall Thinning Recommendations Meeting Part 2 Videos held on May 29. See related slides in pdf files below.
Welcome - Craig Kahlke, Team Leader, Fruit Quality Management, CCE-LOF
Pest Management/Pollination Updates - Intros by Janet van Zoeren, IPM Specialist, CCE-LOF
Insect Update by Art Agnello, Cornell AgriTech
Diseases Updates by Awais Khan and Kerik Cox, Cornell AgriTech
IPM Update by Julie Carroll, Cornell Agritech
Pollination Update by Maria van Dyke, Cornell University
Labor/Crop/Business Management "COVID-19" Updates - Intros by Mark Wiltberger, CCE-LOF
Additional Pest Management Q&A
Labor Update - Paul Baker, Executive Director, New York State Horticultural Society and Mark Wiltberger, CCE-LOF
COVID-19 Updates- Important Info for your Farm with the Re-opening (NY Forward) and Beyond by Mark Wiltberger, CCE-LOF
US Crop Update - Matt Wells, US Apple Sales
Additional Labor/COVID-19/Crop Update
Thinning Recommendations & Conclusion
Additional Thinning Questions as a Follow up to May 27 Webinar and Recommendations in Fruit Facts- Mario Miranda Sazo
This meeting is sponsored by VALENT USA & VALENT BIOSCIENCES
Spring 10-13mm Thinning Spray Recommendation Meeting held on June 5: A recording of the webinar is avialable on YouTube. A pdf of the ppt slides from webinar are available below.
Thinning Recommendations by Terence Robinson
Questions & Answers by Terence Robinson & Mario Miranda Sazo
PDFs linked that contain slides from presentations provided in Spring Meeting Series Webinars below:
Table containing minimum temperatures registered for days in April & May as of May 10, 2020. Hours below the minimum critical temperatures before apples experience cold damage. See pdf below.
Slides presented by speakers during the Spring Pink Meeting webinar.
Bloom Pesticides for Pollinator Health
Slides presented by speakers during the Spring Bloom Meeting webinar.
Slides presented by speakers during the Spring Petal Fall Thinning Recommendations Meeting Part 1
Minimum Temperatures registered as of 10 May 2020 (pdf; 151KB)
Minimum temperatures registered on April 16-17 & May 5,9,&10
Spring Pink Meeting Powerpoint Slides (pdf; 6958KB)
Spring Bloom Meeting Slides (pdf; 1621KB)
Bloom Pesticides for Pollinator Health (pdf; 588KB)
Spring Petal Fall Thinning Recommendations Meeting Part 1 (pdf; 2503KB)
Spring Petal Fall Thinning Meeting Part 2 - Pollination Update (pdf; 1232KB)
Spring Petal Fall Thinning Meeting Part 2 - Petal Fall Disease Update (pdf; 1645KB)
Spring Petal Fall Thinning Meeting Part 2 - Insect Update (pdf; 6092KB)
Spring Petal Fall Thinning Meeting Part 2 - Apple Disease Research Update (pdf; 1007KB)
Spring Petal Fall Thinning Meeting Part 2 - IPM Update (pdf; 679KB)
Spring 10-13mm Thinning Spray Recommends (pdf; 2166KB)