Cherries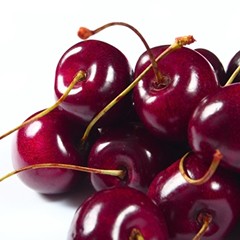 NY growers produce sweet and tart cherries. Most tart cherries are grown in WNY and are processed into frozen cherries, pie filling, dried cherries, and cherry powder. The new products have increased consumption of cherries due to the health benefits of antioxidants in cherries. Sweet cherries are grown across the state and are commonly harvested in U-pick operations. Cherries trees will start producing cherries in about 5 years after planting and will reach their greatest production in 10 years.
Cherry trees are grafted to rootstocks to control height and require well drained soil. Tart cherries are generally self fruitful, but sweet cherries need compatible varieties for pollination.
For more information, go to
Cornell Tree Fruit
.
Most Recent Cherries Content
DEC Registered Pesticides for New York
Last Modified: January 30, 2017
Did You Experience Drought Issues on Your Farm?
Last Modified: January 23, 2017

Did You Experience Drought Issues on Your Farm?
Please Help Us Collect Regional Information So We Can Help You Be Better Prepared in the Future

As you know, the summer of 2016 was a period of lower than average rainfall combined with higher than average temperatures that led to a drought of moderate to unprecedented severity in New York and much of the Northeast

A 2016 NY drought survey is being conducted and we need your input.
Please click on details for more information.

What Herbicides control which weeds ?
Deborah Breth, Integrated Pest Management
Lake Ontario Fruit Program
Last Modified: March 29, 2016
This guide is used to identify the most effective herbicides to target specific weeds in tree fruit. First identify the weed, or weeds, then find those weeds across the top of the spreadsheet. For each weed, make a list of herbicides that are effective on the label. Then you will need to double check the label to determine 1) if the tree fruit crop is labeled, 2) if the tree age is appropriate for use,3) what rate is needed for specific weeds and any soil limitations that might impact those rates. You can go to the
Bureau of Pest Management - Information Portal
to find the labels to determine specific application requirements including the rates, timing, any adjuvants necessary, and any precautions to ensure crop safety.
More Cherries Content


Announcements
Save the Date - LOF Summer Tour is July 12
Time All Day
Location TBA, 4-5 farms west of Rochester
Contact for Info/Registration: Stay Tuned to Website for Updates
Annual Summer Tour Visiting Cutting Edge Farms
"Visual Guide" for March Pruning
A Practical "Visual Guide" for March Pruning of Young and Semi-Young High Density Apple Plantings
Mario Miranda Sazo
The document is a practical and colorful visual guide that shows some important pruning cuts to better grow and train the "money makers" Gala, Honeycrisp, and Fuji trees. The pruning cut decisions are easy to follow and their objectives are simple. More information and the guide can be found here:
https://lof.cce.cornell.edu/submission.php?id=440&crumb=crops|crops|apples|crop*38
2017 LOF Winter Fruit School Presentations
2017 Winter Fruit School presentations that have been approved by the presenters are now available here
https://lof.cce.cornell.edu/submission.php?id=425&crumb=crops|crops|apples|crop*38
; past LOF Winter Fruit School presentations approved for public distribution can be found under the Apples at the bottom in a list.
Working with a Spanish Speaking Workforce
Please use the link below to watch a YouTube video in which Libby Eiholzer, Bilingual Dairy Specialist of the Northwest New York Dairy, Livestock and Field Crops Team and Mario Sazo, Extension Associate of the Lake Ontario Fruit Program discuss Building Campus County Connections: Working with a Spanish Speaking Workforce.
https://www.youtube.com/watch?v=3YkXmboxStE&feature=youtu.be
2017 Cornell Guidelines Available!
Now Available:
2017 Cornell Pest Management Guidelines for Commercial Tree Fruit Production
2017 Cornell Pest Management Guidelines for Berry Crops
These updated guidelines provide current tree fruit or berry crop production information for New York State. They provide valuable timings and recommendations for producers or consultants or anyone involved in the commercial production of tree fruit or berry crops.
Pricing: Online Print Both online version & print
Tree Fruit $41 $41 + shipping $57.50 + shipping
Berry $31 $31 + shipping $43.50 + shipping
Cornell Guidelines can be purchased through your local Cornell Cooperative Extension office or from the Cornell Store at Cornell University. To order from the Cornell Store, call (844) 688-7620 or
order online.
2016 Apple Crop Survey Results
The 2016 Apple Crop Survey Results are now available. Click
here
for results.
Apple System Payback Calculator Now Available!
Apple System Payback Calculator
You can down load this spreadsheet to help you calculate the return on investment for an orchard system you are considering to plant or invest in.
New York Apples and Hard Cider Classifieds
A new on-line classifieds has been launched to help apple growers and hard cider producers "connect" and conduct business. This website allows users to post items for sale and items for purchase. The site is not exclusive to growers and hard cider producers selling and buying to each other. The site can also be used for grower to grower business and hard cider producer to hard cider producer business. Click the following link to start the website:
www.nyahcclassifieds.com
. Click the following to download basic instructions on navigating the site:
NYAHC Classifieds Notice
Lake Ontario Fruit Program - Cornell Cooperative Extension
Your Trusted Source for Research-Based Knowledge