Apples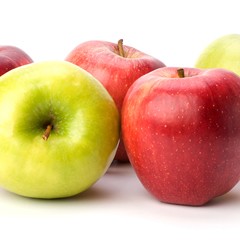 There are 11.6 million apple trees in NY (according to the 2011 USDA tree survey): Wayne County has 5.2 million trees, Orleans has 1.7 million, Niagara has 572,000, Monroe has 213,632, and Oswego has 157,808. In these counties, there are 259 apple farms growing 26,446 acres. This is 63% of the acreage in the state. Modern planting systems range from 600 to 2000 trees per acre and are supported by a trellis system or individual tree supports. The common varieties grown include McIntosh, Empire, Red Delicious, Rome, Idared, Cortland, Gala, Golden Delicious, Jonagold, Crispin, Honeycrisp, Macoun, Gingergold,and more. There are new varieties released from the Cornell Breeding program including SnapDragon and RubyFrost. Autumn Crisp is also a Cornell variety.
For more information, go to
Cornell Fruit Resources: Tree Fruit
.
Most Recent Apples Content
Organizations Offering Respirator Fit Testing
Last Modified: March 8, 2018

Partial list of organizations offering respirator fit testing compiled by the New York Center for Agricultural Medicine and Health (NYCAMH)
When inquiring, ask these organizations about their fee structure, whether or not they will come to you, and if they can test the brand and model of your mask(s). Note that this list is evolving and may change over time.

2018 Lake Ontario Winter Fruit Schools
Last Modified: February 16, 2018

Presentations from the 2018 Lake Ontario Winter Fruit Schools.

Labor Ready Farmer Website & Videos
Last Modified: February 8, 2018

LRF offers a team-based approach to address the challenge of being prepared to hire, manage and retain skilled employees by building skills of new farmers and Latino agricultural employees wanting to climb the ladder from labor to management.

More Apples Content


Upcoming Events
2018 CCE LOF PGR Orchard Tour
June 29, 2018
8am - 1:30pm; lunch & celebration 2-5pm
Geneva, NY
We invite you to attend the talk titled "Understanding the Use of Plant Growth Regulators (PGRs) on Growth and Development of Fruit Trees" (Poliana Francescatto, NYSAES, Geneva), followed by a tour of her research plots at the NYSAES on Friday June 29, from 8am until 1:30pm. Following the tour, there will be a lunch buffet and a grower celebration to honor Poliana's work accomplishments at the Ramada Lakefront Hotel in Geneva from 2-5pm. Pre-register by 25 June 2018

View Details for more information and registration.

LOF Summer Fruit Tour 2018
July 12, 2018
All Day
Annual tour featuring cutting edge farms. Check back for more details & registration options.
LOF Young Fruit Farmer Study Tour 2018
August 2 - August 4, 2018
All Day (see Details for Itinerary)
Gettysburg, PA
Young Fruit Farmer Study Tour in PA, August 2-4
The 3rd annual Young Fruit Farmer Study Tour will be held in the Adams County region of Pennsylvania August 2nd-4th. The Young Growers Alliance (YGA), the LOF team, the Future Fruit Growers of Lake Ontario, along with Matt Wells and Chelsea Van Acker (New York Apple Sales) have organized what looks to be an excellent itinerary. The study tour is focused on helping next generation growers develop the knowledge and skills needed to take their family farms into the future.
Interested in attending this event? click view detail for more information on how to reserve a spot.

Announcements
Save these Dates!
August 2-4 - Young Growers Tour - Pennsylvania - Details @
https://lof.cce.cornell.edu/event.php?id=957

August 6 - Hard Cider Tour - Western NY - Details @
https://lof.cce.cornell.edu/event.php?id=962
Please check back for more details.
Sponsor 2018 LOF Events Here!
Save the dates:
2018 LOF Plant Growth Regulator (PGR) Tour - Friday, June 29th
2018 LOF Summer Fruit Tour - Thursday, July 12th
2018 LOF Young Fruit Farmer Study Tour - Thursday, August 2nd - Saturday, August 4th
Farm Employee Compensation Benchmark Survey
By participating in the Farm Employee Compensation Benchmark survey you can find out how your employee compensation compares to benchmark data in your farm industry and across the state. More details and link to the survey at:
https://lof.cce.cornell.edu/submission.php?id=540&crumb=business|business
Fit Testing Organizations
Details on organizations offering fit testing @
https://lof.cce.cornell.edu/submission.php?id=521&crumb=crops|crops|apples|crop*38
2017 Census of Agriculture
Producers who are new to farming or did not receive a Census of Agriculture in 2012 still have time to sign up to receive the 2017 Census of Agriculture report form by visiting
www.agcensus.usda.gov
and clicking on the 'Make Sure You Are Counted' button through June. NASS defines a farm as any place from which $1,000 or more of agricultural products were produced and sold, or normally would have been sold, during the census year (2017).
For more information about the 2017 Census of Agriculture and to see how census data are used, visit
www.agcensus.usda.gov
or call (800) 727-9540.
Lake Ontario Fruit Program - Cornell Cooperative Extension
Your Trusted Source for Research-Based Knowledge