Raspberries / Blackberries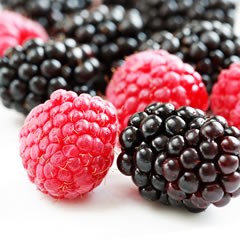 Raspberries are the most widely grown bramble crop in New York planted on over 450 acres in all regions of the state. Both floricane (summer bearing) and primocane (fall or ever-bearing) raspberries are grown and yellow, purple and black fruited cultivars in addition to the popular red raspberries make up the tasty crop. Ninety percent of the estimated 1.1 million pound annual raspberry crop is sold for fresh market and the remaining 10% is used to make value added items including preserves, juice additives and fruit wine.
Blackberries are closely related to raspberries and are grouped together with them in the 'Bramble' category of berry crops. Blackberries differ from raspberries in that the receptacle within the berry fruit is eaten along with the berry. For raspberries, the receptacle is left on the plant, leaving a hollow berry for consumption. Blackberries are also a more tender plant, successfully grown on 450 acres in more temperate regions of the state including Long Island, the Hudson Valley, the Finger Lakes region and fruiting districts near the Great Lakes.
All bramble crops need well drained soil as they are susceptible to soil borne diseases particularly Phytophthora. Potential growers should be aware of cane diseases and other pest problems, as well as the fact that raspberries and blackberries have an extremely short shelf life after harvest, making adequate post-harvest cooling essential. Brambles are often trellised adding to the production costs which can average about $4000/acre.
High tunnel production of raspberries and blackberries has been increasing throughout New York State thanks to research done by the Cornell University Department of Horticulture. This type of protected culture allows growers to extend the productive season of raspberries, extend the potential production sites of blackberries throughout the state and allows growers to produce a much higher quality fruit.
For more information about bramble culture, visit the
Cornell Fruit Resources: Berries
.
Lake Ontario Fruit Webinar Recording & Video Links
Last Modified: July 10, 2020
Agriculturally Significant Fruit Fly 2020 Quick Guides
Last Modified: June 25, 2020
Spotted Wing Drosophila (SWD)
Last Modified: June 25, 2020
Pollinator Resources
Last Modified: May 31, 2019
DEC Registered Pesticides for New York
Last Modified: January 30, 2017
Did You Experience Drought Issues on Your Farm?
Last Modified: January 23, 2017
Niagara Co. Vegetable & Small Fruit Grower Meeting Presentations
Last Modified: March 7, 2016
Revisions in EPA WPS comment period open until Dec. 23, 2015
Deborah Breth, Integrated Pest Management
Lake Ontario Fruit Program
Last Modified: November 13, 2015
2015 Winter Fruit School
Last Modified: February 25, 2015
Spotted Wing Drosophila
Last Modified: June 3, 2014
Produce Handling for Direct Marketing
Craig Kahlke, Team Leader, Fruit Quality Management
Lake Ontario Fruit Program
Last Modified: January 13, 2014
The Commercial Storage of Fruits, Vegetables, and Florist and Nursery Stocks
Craig Kahlke, Team Leader, Fruit Quality Management
Lake Ontario Fruit Program
Last Modified: January 13, 2014
Bramble Harvest & Postharvest Handling 2012
Last Modified: January 9, 2014
Animals in Fruit Crops
Last Modified: January 8, 2014
Brief Overview of Labor Regulations & Recordkeeping for Farm Businesses
Matthew Wells, Production Economics & Business Management
Lake Ontario Fruit Program
Last Modified: July 31, 2013
Spotted Winged Drosophila found locally and throughout New York and New England
Laura McDermott, Team Leader, Small Fruit and Vegetable Specialist
Eastern New York Commercial Horticulture
Last Modified: August 7, 2012


Upcoming Events
Cornell Small Farms Program New Season of Online Courses-Enroll Now!
January 11, 2021
February 22, 2021
September 1, 2021
November 1, 2021

CSFP's new season of online courses is almost halfway through, and now's the time to register for their upcoming block three courses which begin in the new year. Upcoming courses include their new offering on social media and online marketing, farm business courses, and production courses covering beekeeping, mushrooms, sheep and more.
Announcements