Raspberries / Blackberries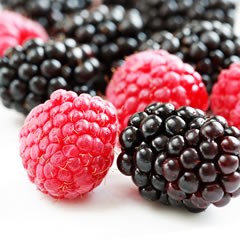 Raspberries are the most widely grown bramble crop in New York planted on over 450 acres in all regions of the state. Both floricane (summer bearing) and primocane (fall or ever-bearing) raspberries are grown and yellow, purple and black fruited cultivars in addition to the popular red raspberries make up the tasty crop. Ninety percent of the estimated 1.1 million pound annual raspberry crop is sold for fresh market and the remaining 10% is used to make value added items including preserves, juice additives and fruit wine.
Blackberries are closely related to raspberries and are grouped together with them in the 'Bramble' category of berry crops. Blackberries differ from raspberries in that the receptacle within the berry fruit is eaten along with the berry. For raspberries, the receptacle is left on the plant, leaving a hollow berry for consumption. Blackberries are also a more tender plant, successfully grown on 450 acres in more temperate regions of the state including Long Island, the Hudson Valley, the Finger Lakes region and fruiting districts near the Great Lakes.
All bramble crops need well drained soil as they are susceptible to soil borne diseases particularly Phytophthora. Potential growers should be aware of cane diseases and other pest problems, as well as the fact that raspberries and blackberries have an extremely short shelf life after harvest, making adequate post-harvest cooling essential. Brambles are often trellised adding to the production costs which can average about $4000/acre.
High tunnel production of raspberries and blackberries has been increasing throughout New York State thanks to research done by the Cornell University Department of Horticulture. This type of protected culture allows growers to extend the productive season of raspberries, extend the potential production sites of blackberries throughout the state and allows growers to produce a much higher quality fruit.
For more information about bramble culture, visit the
Cornell Fruit Resources: Berries
.
Relevant Event
2019 Lake Ontario Fruit Advisory Meeting
December 12, 2019
Spencerport, NY
DEC Registered Pesticides for New York
Last Modified: January 30, 2017
Did You Experience Drought Issues on Your Farm?
Last Modified: January 23, 2017

Did You Experience Drought Issues on Your Farm?
Please Help Us Collect Regional Information So We Can Help You Be Better Prepared in the Future

As you know, the summer of 2016 was a period of lower than average rainfall combined with higher than average temperatures that led to a drought of moderate to unprecedented severity in New York and much of the Northeast

A 2016 NY drought survey is being conducted and we need your input.
Please click on details for more information.

Niagara Co. Vegetable & Small Fruit Grower Meeting Presentations
Last Modified: March 7, 2016

Small fruit presentations from the Tuesday March 1, 2016 Vegetable & Small Fruit Grower Meeting in Niagara Co.

Revisions in EPA WPS comment period open until Dec. 23, 2015
Deborah Breth, Integrated Pest Management
Lake Ontario Fruit Program
Last Modified: November 13, 2015
EPA is finalizing changes to the WPS. The WPS is a regulation primarily intended to reduce the risks of injury or illness resulting from agricultural workers' and handlers' use and contact with pesticides on farms, forests, nurseries and greenhouses. The rule primarily seeks to protect workers (those who perform hand-labor tasks in pesticide-treated crops, such as harvesting, thinning, pruning) and handlers (those who mix, load and apply pesticides). The rule does not cover persons working with livestock. The existing regulation has provisions requiring employers to provide workers and handlers with pesticide safety training, posting and notification of treated areas, and information on entry restrictions, as well as PPE for workers who enter treated areas after pesticide application to perform crop-related tasks and handlers who mix, load, and apply pesticides. The full content if you want to review and comment can be found at
http://www.regulations.gov/#!documentDetail;D=EPA-HQ-OPP-2011-0184-2510
.
A summary chart of major cahnges between the new revisions and the current standard can be found here.
http://www2.epa.gov/sites/production/files/2015-09/documents/comparison-chart-wps.pdf
2015 Winter Fruit School
Last Modified: February 25, 2015


Presentations from the 2015 Lake Ontario Fruit Program Winter Fruit School.

Spotted Wing Drosophila
Last Modified: June 3, 2014

Spotted Wing Drosophila has become an issue in berry crops around NYS. More information on trapping and monitoring this pest are included in the following PDFs.

Produce Handling for Direct Marketing
Craig Kahlke, Team Leader, Fruit Quality Management
Lake Ontario Fruit Program
Last Modified: January 13, 2014

NRAES-51, Successful direct marketing of fresh fruits and vegetables depends on providing quality items in a clean and customer-friendly environment. This publication is valuable for growers who sell seasonal produce at local farmers' markets or roadside markets. It describes postharvest physiology, food safety, produce handling from harvest to storage, refrigerated storage, produce displays, and specific handling and display recommendations for over forty types of fruits and vegetables. Eleven tables and eight figures are included. (1992)

Successful direct marketing of fresh fruits and vegetables depends on providing quality items in a clean and customer-friendly environment. Produce Handling for Direct Marketing, NRAES-51, is an invaluable guide for the grower who sells seasonal produce at local farmers' markets or roadside markets.
The Commercial Storage of Fruits, Vegetables, and Florist and Nursery Stocks
Craig Kahlke, Team Leader, Fruit Quality Management
Lake Ontario Fruit Program
Last Modified: January 13, 2014

The information contained in this preliminary version of HB-66 has been assembled from information prepared by nearly 100 authors from around the world. The version posted here is a revised copy of a Draft made available online in November 2002 for author and public review and comment.
Bramble Harvest & Postharvest Handling 2012
Last Modified: January 9, 2014

Brambles (raspberries and blackberries) are the most delicate of the small fruit we harvest in the Northeast, so special care must be taken in their handling. Since nearly all of the bramble operations in our region are harvested by hand for the fresh market, training pickers becomes extremely important.
Animals in Fruit Crops
Last Modified: January 8, 2014

Orchards and other fruit crops are great habitat for many animals for food, and shelter. Deer, voles, rabbits, wild turkeys, and beavers, have caused damage to trees, bushes and fruit resulting in serious economic losses. Animals also pose a challenge for growers who participate in Food Safety audits to prevent contamination of fruit at harvest time. Growers must take steps to manage animals in fruit crops. P. D. Curtis prepares and updates the Wildlife Damage Management Chapter in the Cornell Pest Management Guidelines for tree Fruit and also for Berries.

Brief Overview of Labor Regulations & Recordkeeping for Farm Businesses
Matthew Wells, Production Economics & Business Management
Lake Ontario Fruit Program
Last Modified: July 31, 2013

This document provides a brief overview of state & federal labor regulations that apply to many fruit farms in N.Y.S., as well as examples of record keeping forms that assist growers in meeting these regulations.

Spotted Winged Drosophila found locally and throughout New York and New England
Laura McDermott, Team Leader, Small Fruit and Vegetable Specialist
Eastern New York Commercial Horticulture
Last Modified: August 7, 2012


In light of these findings, blueberry, summer and fall raspberry and day-neutral strawberry growers are urged to be vigilant about this pest.



Upcoming Events
Lunchtime Q & A Session, Tuesday, June 9: Managing Field Crews during COVID-19: What Actions Should Apple Growers Take?
June 9, 2020
As New York "Reopens" business during the COVID-19 crisis, business owners are evaluating what actions they need to take to protect themselves, their employees, and their customers. Join a panel of experts for a Question and Answer lunchtime session on June 9th, 2020 at noon that will address common questions that apple growers and other producers have about managing their field crew.
Announcements