Enrollment
The Cornell Cooperative Extension Lake Ontario Fruit team invites you to join our organization; you must be enrolled to benefit from the expertise of our Specialists. Enrollment in a partner county will provide a subscription to our newsletter, Fruit Notes, and access to Fruit Facts (the more time sensitive reminders for pest management and horticultural practices) and the Harvest Maturity subscription will provide you with apple ripening index measurements to help time harvest of apples by variety. We can also do farm visits to troubleshoot problems or evaluate situations.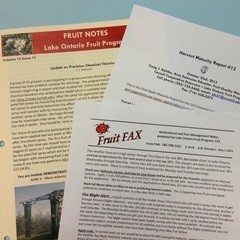 In 2022, our program will be supported, in part, by 5 county Cornell Cooperative Extensions: Monroe, Niagara, Orleans, Oswego and Wayne Counties. If you have not been enrolled in our program before, and are farming or living in one of these counties, you can click on the county listed above and contact them to find out how to enroll. Renewals of current enrollees are different for each county, they range from January through the end of March.


However, we still welcome those that farm or conduct agricultural services in other counties outside of Niagara, Orleans, Oswego, Monroe and Wayne Counties to enroll in our program (Satellite Enrollment). The Satellite enrollment will also provide a subscription to our newsletter, Fruit Notes, and access to Fruit Facts and the Harvest Maturity subscription. However, we must continue to respect the major supporting role of the partner counties who continue to support the cost of the program overall. Therefore, the growers who enroll through the Satellite program can only access specialists on the team for consultation by phone, fax, or email. Unfortunately, specialists will not be able to do on-farm visits or applied research out of the partner counties. But there is a lot we can do electronically through communication technology these days! If you would like to become a member of our program through our Satellite enrollment you can enroll by printing and mailing the Satellite PDF Enrollment form below, or simply enroll online with a credit card in the form below.

For general enrollment questions or to learn more about the benefits or enrolling in the Lake Ontario Fruit Program? Contact Team Leader Craig Kahlke at 585-735-5448, or cjk37@cornell.edu.
LOF Enrollment Form - Satellite (PDF; 263KB)
Satellite Regions Enrollment Form -
Online
*In Region Enrollment is directly with your county


Upcoming Events
Farm Food Safety Meeting
December 5, 2022
Newark, NY
This meeting will focus on updates and key considerations in farm food safety. Topics to be covered include agricultural water quality assessments, traceability procedures, tips for improving flow and efficiency in wash/pack facilities, cleaning and sanitation updates, plus plenty of discussion to answer your questions.
Annual LOF Advisory Committee Meeting
December 16, 2022
Spencerport, NY
Please join us in-person for our annual winter advisory meeting where you can spend time with the team reviewing the team's educational programs and most importantly providing us feedback. Please pre-registration by December 13th.
Announcements