Plums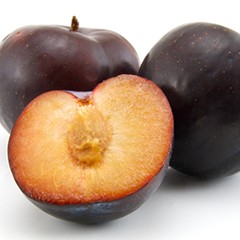 Plums are a minor crop in WNY with many varieties to choose from. Plums are classified as European "blue plums" used for canning, drying, and fresh consumption; Japanese plums are mainly for fresh consumption. Plum trees are are not self-fruitful and need a compatible variety for pollination. They are typically grafted to a Myrobalan rootstock. Plum varieties have different degrees of tolerance to bacterial spot, and bacterial canker disease. Propogating and planting plum trees is regulated under provisions set by NY Ag & Markets depending on proximity to recent detections of plum pox virus. Check the website for an updated map for where planting and propagation is regulated.
For more information, go to
Cornell Tree Fruit
.
Most Recent Plums Content
DEC Registered Pesticides for New York
Last Modified: January 30, 2017
Did You Experience Drought Issues on Your Farm?
Last Modified: January 23, 2017

Did You Experience Drought Issues on Your Farm?
Please Help Us Collect Regional Information So We Can Help You Be Better Prepared in the Future

As you know, the summer of 2016 was a period of lower than average rainfall combined with higher than average temperatures that led to a drought of moderate to unprecedented severity in New York and much of the Northeast

A 2016 NY drought survey is being conducted and we need your input.
Please click on details for more information.

What Herbicides control which weeds ?
Deborah Breth, Integrated Pest Management
Lake Ontario Fruit Program
Last Modified: March 29, 2016
This guide is used to identify the most effective herbicides to target specific weeds in tree fruit. First identify the weed, or weeds, then find those weeds across the top of the spreadsheet. For each weed, make a list of herbicides that are effective on the label. Then you will need to double check the label to determine 1) if the tree fruit crop is labeled, 2) if the tree age is appropriate for use,3) what rate is needed for specific weeds and any soil limitations that might impact those rates. You can go to the
Bureau of Pest Management - Information Portal
to find the labels to determine specific application requirements including the rates, timing, any adjuvants necessary, and any precautions to ensure crop safety.
More Plums Content


Upcoming Events
2018 CCE LOF PGR Orchard Tour
June 29, 2018
8am - 1:30pm; lunch & celebration 2-5pm
Geneva, NY
We invite you to attend the talk titled "Understanding the Use of Plant Growth Regulators (PGRs) on Growth and Development of Fruit Trees" (Poliana Francescatto, NYSAES, Geneva), followed by a tour of her research plots at the NYSAES on Friday June 29, from 8am until 1:30pm. Following the tour, there will be a lunch buffet and a grower celebration to honor Poliana's work accomplishments at the Ramada Lakefront Hotel in Geneva from 2-5pm. Pre-register by 25 June 2018

View Details for more information and registration.

LOF Summer Fruit Tour 2018
July 12, 2018
All Day
Annual tour featuring cutting edge farms. Check back for more details & registration options.
LOF Young Fruit Farmer Study Tour 2018
August 2 - August 4, 2018
All Day (see Details for Itinerary)
Gettysburg, PA
Young Fruit Farmer Study Tour in PA, August 2-4
The 3rd annual Young Fruit Farmer Study Tour will be held in the Adams County region of Pennsylvania August 2nd-4th. The Young Growers Alliance (YGA), the LOF team, the Future Fruit Growers of Lake Ontario, along with Matt Wells and Chelsea Van Acker (New York Apple Sales) have organized what looks to be an excellent itinerary. The study tour is focused on helping next generation growers develop the knowledge and skills needed to take their family farms into the future.
Interested in attending this event? click view detail for more information on how to reserve a spot.

Announcements
Save these Dates!
August 2-4 - Young Growers Tour - Pennsylvania - Details @
https://lof.cce.cornell.edu/event.php?id=957

August 6 - Hard Cider Tour - Western NY - Details @
https://lof.cce.cornell.edu/event.php?id=962
Please check back for more details.
Sponsor 2018 LOF Events Here!
Save the dates:
2018 LOF Plant Growth Regulator (PGR) Tour - Friday, June 29th
2018 LOF Summer Fruit Tour - Thursday, July 12th
2018 LOF Young Fruit Farmer Study Tour - Thursday, August 2nd - Saturday, August 4th
Farm Employee Compensation Benchmark Survey
By participating in the Farm Employee Compensation Benchmark survey you can find out how your employee compensation compares to benchmark data in your farm industry and across the state. More details and link to the survey at:
https://lof.cce.cornell.edu/submission.php?id=540&crumb=business|business
Fit Testing Organizations
Details on organizations offering fit testing @
https://lof.cce.cornell.edu/submission.php?id=521&crumb=crops|crops|apples|crop*38
2017 Census of Agriculture
Producers who are new to farming or did not receive a Census of Agriculture in 2012 still have time to sign up to receive the 2017 Census of Agriculture report form by visiting
www.agcensus.usda.gov
and clicking on the 'Make Sure You Are Counted' button through June. NASS defines a farm as any place from which $1,000 or more of agricultural products were produced and sold, or normally would have been sold, during the census year (2017).
For more information about the 2017 Census of Agriculture and to see how census data are used, visit
www.agcensus.usda.gov
or call (800) 727-9540.
Lake Ontario Fruit Program - Cornell Cooperative Extension
Your Trusted Source for Research-Based Knowledge