Event Details
Date
April 24, 2019
Time
1pm - 5pm
Location
G10 Biotech Cornell University
215 Tower Rd
Ithaca, NY 14853
Cost
This event is free.
Host
Cornell Organic Production and Marketing Program Work Team
Jenn Thomas-Murphy
607-255-2177
email Jenn Thomas-Murphy
Cornell Organic
Cornell Organic Symposium
April 24, 2019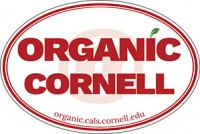 This year the Symposium will have a weed management theme and feature weed ecologist Chuck Mohler as keynote speaker. Similar to last year, the Symposium will include a poster session (with snacks!).
For questions and disability accommodations (e.g., sign language interpreters, alternative formats) please contact Jenn Thomas-Murphy at jnt3@cornell.edu or 607-255-2177, as soon as possible.