Event Details
Date
July 18, 2019
Time
All day - see pdf for detailed program
Location
David Tower Farm - 1st Stop
1579 Youngstown Wilson Rd
Youngstown, NY 14174
Cost
This event is free.
Host
Lake Ontario Fruit Program
Pre-Registration Deadline: July 16, 2019

EVENT HAS PASSED
2019 Lake Ontario Fruit Summer Fruit Tour
July 18, 2019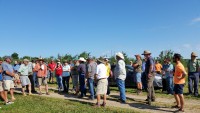 Free Thanks to Our Sponsors! Please register online for lunch count by July 15.
Dress for the weather (hats, sunscreen, umbrellas, and feel free to bring fold-up chairs).
Follow Cornell Fruit Event Signs. GPS address are not exact, they will get to the Fruit Event signs.
For detailed maps please see the Tour Stops Detailed & Overview pdfs below.

Sorry no DEC Credits.
Register at Stop 1 to Enter a Raffle to Win a FELCO Electric Pruning Shear, a $2,000 value!Registration Begins at 8:30 AM, Program begins at 9 AM, Adjourns by 4 PM -see finalized time agenda pdf belowStop 1. David Tower Farm
, Wilson-Youngstown Rd, Youngstown. Host David Tower. (~ 9-10:15 AM)
David is a diversified fruit grower growing apples and stone fruit primarily for premium farmer's markets that demand high-quality product. In this stop we will see and compare David's multi-leader Gala plantings on 2 different rootstocks (G202 & M26), planted in 2016 & 2017. In the next talk, Craig, David, and Dr. Terence Robinson will discuss the Pollen Tube Growth Model and its use in the successful thinning of a block of 'Gale' Gala. Dr. Juliet Carroll will follow with a Spotted Wing Drosophila update. Finally, Margaret Kelly of NYS Dept. of Ag & Mkts will give an update on the European Cherry Fruit Fly and its current quarantine zone in the region.
GPS address 1579 Youngstown Wilson Rd, Youngstown, NY 14174
Travel to Stop 2 (~ 30 minutes)
Stop 2. Two of Clubs Orchards
, Hess & Swigert Rds., Appleton - Hosts Mark Russell and Jill MacKenzie. (~ 11 AM - 12:15 PM)
Jill MacKenzie and Mark Russell are very progressive fruit growers. They have turned their goals for a modern and efficient orchard into positive results. Today all their state-of-the art plantings produce high yields of high quality fruit of the most promising apple cultivars. At the first stop you will see a recently established Honeycrisp planting with a discussion of trellis construction, pruning of feathers after planting, use of Maxcel, and training of young trees. Then participants will visit mature apple plantings on G.11 and M.9 rootstocks. This season Jill and Mark conducted several precision chemical thinning trials and developed innovative ideas to improve the implementation of the Cornell precision chemical thinning protocol. Jill will show us how she flagged clusters and monitored fruit growth. Their thinning results, final fruit counts/tree before hand-thinning, and field observations will be discussed. At the end of this stop, there will be a spray deposition demo with water sensitive papers by comparing two spray volumes.
Travel to Stop 3 (~ 10 minutes) GPS address is 6762 Swigert Rd, Appleton, NY 14008, just west of Hess Rd.
Stop 3. Krull Park
, Rte 18, Olcott (Russell Farms Storage is the alternate) - Lunch and Visit With Sponsors. (~ 12:30-2 PM)
Enjoy a Catered Lunch, and listen to brief Sponsor Speaking Spots Updating & Directing You to Their Displays.
View a Demonstration by Dr. Awais Khan on rapid and sensitive detection of fire blight in apple orchards.
Also at the lunch stop, we'll raffle off the FELCO F820 pruning shear, courtesy of Andrew Dulude (OESCSO) & Ryan Amberg (FELCO) - see:
https://www.oescoinc.com/felco-f820-electric-orchard-pruning-shear.html
A brief talk by Dr. Susan Brown, an update of the Cornell Apple Breeding Program
Visit sponsor displays, tables, equipment, and demos.
Travel to Stop 4 (< 10 minutes) GPS address is 6006 E. Main St, Olcott, NY 14126
Stop 4. Russell Farms
, Hess Rd - Hosts Peter & Max Russell. (~ 2:15 - 3:45 PM)
Located in Appleton, NY, Russell Farms is a sixth-generation fruit and vegetable operation, specializing in apple production. Brothers Pete, Bill, and Paul, and Pete's son, Max, work together to farm over 1,000 acres of apples, cabbage, tomatoes, corn, and soybeans.
Peter Russell will introduce the farm and give an overview of their operations. We will look at a stand of grafted Premier Honeycrisp and compare to a standard tall spindle Honeycrisp planting. Then we will discuss a NY-2 planting on two different rootstocks, and also talk about the practice of hedging on a Fuji planting. As a young grower who has returned to the family farm after working in the industry in Washington State, Max Russell will talk about his perspective of the fruit industry in Western New York. The results of the 2018 field trials of reflective ground cover conducted by the LOF team will be presented, with a summary of the effects on coloring, potential economic returns, and ground cover options for growers. To wrap up the tour, participants will discuss their take-home messages of the tour stops.
GPS address 1633 Hess Rd, Appleton, NY 14008
2019 SFT Agenda (PDF; 705KB)
2019 Summer Fruit Tour Stops Detailed (PDF; 739KB)
2019 Summer Fruit Tour Stops Overview (PDF; 513KB)