Spotted Lanternfly Workshop - Online
---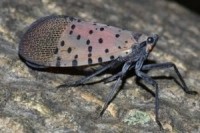 In just under two weeks Jim O'Connell, Ulster County CCE, will be hosting a webinar on that new spotted invasive, spotted lanternfly (Lycorma delicatula). This insect threatens vineyards, woodlands and orchards...and backyards! It has caused significant damage to wine grapes in Pennsylvania, where it was first introduced from Asia.
Fascinating insects, Fulgorids. Yet, none existed in North America...until now! Learn more about these up-and-coming pests, how to identify them and how to report any sightings of them. Help us keep the populations of spotted lanternfly (SLF) under control and, preferably, out of New York State. (I used to love polka dots, now I'm not so sure.)
Attend the Online Spotted Lanternfly Workshop on Wednesday, May 13, 2020, from 9:30 AM - 12:00 PM.
Register here Register in advance for this meeting:Opens in a new window
After registering, you will receive a confirmation email with information about joining the meeting.
This SLF meeting will update farmers and the general public about this new invasive species that has the potential to cause severe economic injury to many important crops in Ulster County and New York State.
Spotted lanternfly (SLF) is originally from China and parts of Southeast Asia. It was first detected in Pennsylvania in September of 2014 and a state quarantine of 13 counties was enacted. Since then, it has spread to adjacent counties, as well as parts of New Jersey, Maryland, Delaware, Virginia, and West Virginia.
At this workshop, learn about:
the biology of SLF,
it's preferred hosts,
economic injury sustained in Pennsylvania,
how to report sightings,
and regulatory restrictions in place to limit the spread of SLF.
These insects are over an inch long!
There is no cost to attend this meeting, however, pre-registration is required.
Register here and receive your confirmation email with the link to join the workshop.
DEC pesticide license recertification credits may be available. Learn more about SLF, attend the Online Spotted Lanternfly Workshop! May 13, 9:30 - noon.


Upcoming Events
Annual LOF Advisory Committee Meeting
November 9, 2020
Please join us (virtually) for our annual winter advisory meeting
where you can spend time with the team reviewing the team's
educational programs and most importantly providing us
feedback. Click "view details" for more details and pre-registration link.
CCE's NY Tree Fruit Conference sponsored by CCE Eastern NY Commercial Hort Program & CCE Lake Ontario Fruit Program
February 2 - February 4, 2021
For 2021, the CCE's NY Tree Fruit Conference sponsored by the CCE Eastern New York Commercial Horticulture Program and the CCE Lake Ontario Fruit Program will replace CCE-LOF's Winter Fruit Schools and CCE-ENYCHP's Fruit & Vegetable Conference, DEC Credits are being applied for at multiple sessions.
More details to follow in the coming weeks!
Announcements