Spotted Lanternfly Workshop - Online
---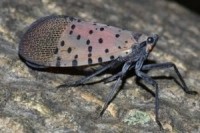 In just under two weeks Jim O'Connell, Ulster County CCE, will be hosting a webinar on that new spotted invasive, spotted lanternfly (Lycorma delicatula). This insect threatens vineyards, woodlands and orchards...and backyards! It has caused significant damage to wine grapes in Pennsylvania, where it was first introduced from Asia.
Fascinating insects, Fulgorids. Yet, none existed in North America...until now! Learn more about these up-and-coming pests, how to identify them and how to report any sightings of them. Help us keep the populations of spotted lanternfly (SLF) under control and, preferably, out of New York State. (I used to love polka dots, now I'm not so sure.)
Attend the Online Spotted Lanternfly Workshop on Wednesday, May 13, 2020, from 9:30 AM - 12:00 PM.
Register here Register in advance for this meeting:Opens in a new window
After registering, you will receive a confirmation email with information about joining the meeting.
This SLF meeting will update farmers and the general public about this new invasive species that has the potential to cause severe economic injury to many important crops in Ulster County and New York State.
Spotted lanternfly (SLF) is originally from China and parts of Southeast Asia. It was first detected in Pennsylvania in September of 2014 and a state quarantine of 13 counties was enacted. Since then, it has spread to adjacent counties, as well as parts of New Jersey, Maryland, Delaware, Virginia, and West Virginia.
At this workshop, learn about:
the biology of SLF,
it's preferred hosts,
economic injury sustained in Pennsylvania,
how to report sightings,
and regulatory restrictions in place to limit the spread of SLF.
These insects are over an inch long!
There is no cost to attend this meeting, however, pre-registration is required.
Register here and receive your confirmation email with the link to join the workshop.
DEC pesticide license recertification credits may be available. Learn more about SLF, attend the Online Spotted Lanternfly Workshop! May 13, 9:30 - noon.


Upcoming Events
Apple Leafcurling Midge IPM - Webinar

February 16, 2023
In recent years, the apple leafcurling midge (ALCM) has become an increasingly problematic pest in many orchards across the northeast.
Western NY Fruit Conference - "State of the Industry"

February 27 - February 28, 2023
Henrietta, NY
CCE-LOF are excited to bring you a muti-day fruit conference in WNY! This is replacing our Winter Fruit Schools. Tentative Agenda is now available.

Fire Blight Informational Series - Michigan Fire Blight Meeting
March 1, 2023
: Michigan Fire Blight Meeting


Traverse City, MI

The team leading the national fire blight SCRI grant "Comprehensive Fire Blight Management for the United States" is hosting a March meeting (in person or virtual) as well as a webinar series. This multi-state series will address new research on best management practices for fire blight control. You are encouraged to attend these events which will provide cutting edge research recommendations into how to manage fire blight. Each session eligible for some DEC credits (see below for quantities, and bottom of article for direction on how to receive credit).
Announcements