WNY Virtual 'Rescue Thinning Sprays' Meeting
---
Event Details
Date
June 2, 2021
Time
Noon-1pm
Location
Online via Zoom

Host
Lake Ontario Fruit Program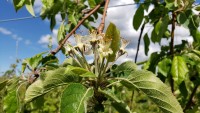 Join Dr. Terence Robinson (Cornell) for a rescue thinning spray discussion. At meeting time (new time this week Noon - 1pm), please click this link, there is no need to preregister: Join Zoom Meeting
Zoom link: https://cornell.zoom.us/j/99363007075?pwd=ZnFPZlMxVS9ma1dpR2g3WF VJTXlCUT09

If you missed the last couple of meetings or need a refresher before the meeting please see the introduction to bloom thinning by Dr. Robinson and much more (Nutrition by Dr. Cheng, Fire Blight Management by Dr. Cox, and Insect Mgmt at Pink from Dr. Jaime Pinero (UMass) from Our Statewide Virtual Pink Meeting that was held 4/27 Here: htps://www.youtube.com/watch?v=fnF6y_...
and the presentation on bloom thinning by Dr. Robinson and NEWA use discussion by Dan Olmstead from Statewide Virtual Precision Bloom Thinning Meeting held 5/3.
And the presentation on petal fall by Dr. Robinson from the WNY Virtual Petal Fall Meeting held on 5/17.
WNY Virtual '12mm Thinning Sprays' Meeting with Dr. Robinson held on 5/24.


Upcoming Events
Annual LOF Advisory Committee Meeting
December 8, 2023
Spencerport, NY
Please join us for our winter advisory meeting, join the team and provide input for the 2nd Annual Tree Fruit Conference on February 8-9 in Rochester. Please pre-register by noon on December 7th.

Announcements