WNY Virtual 'Rescue Thinning Sprays' Meeting
---
Event Details
Date
June 2, 2021
Time
Noon-1pm
Location
Online via Zoom

Host
Lake Ontario Fruit Program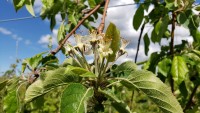 Join Dr. Terence Robinson (Cornell) for a rescue thinning spray discussion. At meeting time (new time this week Noon - 1pm), please click this link, there is no need to preregister: Join Zoom Meeting
Zoom link: https://cornell.zoom.us/j/99363007075?pwd=ZnFPZlMxVS9ma1dpR2g3WF VJTXlCUT09

If you missed the last couple of meetings or need a refresher before the meeting please see the introduction to bloom thinning by Dr. Robinson and much more (Nutrition by Dr. Cheng, Fire Blight Management by Dr. Cox, and Insect Mgmt at Pink from Dr. Jaime Pinero (UMass) from Our Statewide Virtual Pink Meeting that was held 4/27 Here: htps://www.youtube.com/watch?v=fnF6y_...
and the presentation on bloom thinning by Dr. Robinson and NEWA use discussion by Dan Olmstead from Statewide Virtual Precision Bloom Thinning Meeting held 5/3.
And the presentation on petal fall by Dr. Robinson from the WNY Virtual Petal Fall Meeting held on 5/17.
WNY Virtual '12mm Thinning Sprays' Meeting with Dr. Robinson held on 5/24.


Upcoming Events
2021 Virtual 'Honeycrisp' Meetup Summer Series
June 3, 2021 : Crop Load Management
June 17, 2021 : Rootstocks
July 1, 2021 : Nutrient Management
2021 LOF Summer Fruit Tour

August 12, 2021
LOF is excited to inform our stakeholders that we will be having a summer tour in 2021. Thanks to eased restrictions due to continued decreases in COVID infections and many millions of New Yorkers getting vaccinated, Cornell is following New York State's guideline for outdoor public meetings. So, mark your calendars for Thursday, August 12, - LOF Summer Tour featuring Wayne County. We are in the early planning stages and will be reaching out to potential sponsors shortly. Stay tuned for more info about the tour.
Cornell Small Farms Program New Season of Online Courses-Enroll Now!
January 11, 2021
February 22, 2021
September 1, 2021
November 1, 2021

CSFP's new season of online courses is almost halfway through, and now's the time to register for their upcoming block three courses which begin in the new year. Upcoming courses include their new offering on social media and online marketing, farm business courses, and production courses covering beekeeping, mushrooms, sheep and more.
Announcements