Biological Orchard IPM Tactics Webinar
---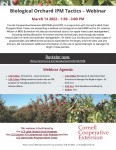 Cornell Cooperative Extension ENYCHP, LOFP, & Hard Cider Program Working Team are presenting a webinar on biological orchard IPM tactics. Julianna Wilson of MSU Extension will present on mating disruption and biological insecticide options, while Dr. Kerik Cox will review what's available for biological control of diseases.
DEC credits are pending. If you would like to receive DEC credit for this webinar be sure to email a picture of your DEC pesticide applicators license to Mike Basedow at mrb254@cornell.edu. You will also need to fill all of the necessary Qualtrics polls presented at the webinar.
Register now:
https://cornell.zoom.us/meetin...
Webinar Agenda
1:30 - Introduction (Janet van Zoeren)
1:35 - Insect Pest Management (Dr. Julianna Wilson)
2:15 - Disease Management (Dr. Kerik Cox)
2:55 - Final Questions and Wrap Up
3:00 - End
Please contact Mike Basedow with any questions: 518 410 6823 | mrb254@cornell.edu


Upcoming Events
Farm Food Safety Meeting
December 5, 2022
Newark, NY
This meeting will focus on updates and key considerations in farm food safety. Topics to be covered include agricultural water quality assessments, traceability procedures, tips for improving flow and efficiency in wash/pack facilities, cleaning and sanitation updates, plus plenty of discussion to answer your questions.
Annual LOF Advisory Committee Meeting
December 16, 2022
Spencerport, NY
Please join us in-person for our annual winter advisory meeting where you can spend time with the team reviewing the team's educational programs and most importantly providing us feedback. Please pre-registration by December 13th.
Announcements