Biological Orchard IPM Tactics Webinar
---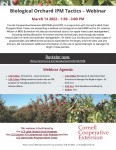 Cornell Cooperative Extension ENYCHP, LOFP, & Hard Cider Program Working Team are presenting a webinar on biological orchard IPM tactics. Julianna Wilson of MSU Extension will present on mating disruption and biological insecticide options, while Dr. Kerik Cox will review what's available for biological control of diseases.
DEC credits are pending. If you would like to receive DEC credit for this webinar be sure to email a picture of your DEC pesticide applicators license to Mike Basedow at mrb254@cornell.edu. You will also need to fill all of the necessary Qualtrics polls presented at the webinar.
Register now:
https://cornell.zoom.us/meetin...
Webinar Agenda
1:30 - Introduction (Janet van Zoeren)
1:35 - Insect Pest Management (Dr. Julianna Wilson)
2:15 - Disease Management (Dr. Kerik Cox)
2:55 - Final Questions and Wrap Up
3:00 - End
Please contact Mike Basedow with any questions: 518 410 6823 | mrb254@cornell.edu


Upcoming Events
No upcoming events at this time.
Announcements