2022 Respirator Fit Testing Clinic
---
Event Details
Date
April 7, 2022
Time
9am - 4pm
Location
CCE Orleans County - Conference Room - South Entrance
12690 Rt 31
Albion, NY 14411
Host
New York Center for Agricultural Medicine and Health

NYCAMH
607‐547‐6
email NYCAMH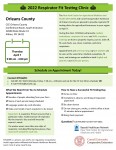 The New York Center for Agricultural Medicine and Health (NYCAMH) and Cornell Cooperative Extension of Orleans County are pleased to provide respirator fit testing clinics for agricultural businesses in your region on April 7.
During the clinic, NYCAMH will provide medical evaluations, respirator fit tests and WPS compliant trainings on how to properly inspect, put on, take off, fit, seal check, use, clean, maintain, and store respirators.
Appointments are one hour long. Up to 4 workers can be seen at the same time. Medical evaluations, fit tests, and trainings are available in both English and Spanish. Cost is $65 per person.
Schedule an Appointment Today!
Contact NYCAMH:
Call 607‐547‐6023 (Monday‐Friday, 7:30 am—4:00 pm) and ask for the Fit Test Clinic scheduler OR
E‐mail FitTest@bassett.org
What We Need From You to Schedule
Appointments
Number of people attending from your farm
Name of each person being scheduled
Language spoken by each attendee
Make and model of each respirator to be tested
How to Have a Successful Fit Testing Day
Arrive on time
Complete in advance and bring all requested paperwork
Be clean‐shaven
Do not chew gum, smoke, or drink coffee at least 15 minutes before appointment
Bring check payment
Questions? Call NYCAMH at 607‐547‐6023
Important: A respirator fit test ensures that a particular make, model and size of respirator fits the wearer's face and will meet the wearer's needs. If a worker wears more than one style of respirator, including filtering face pieces, they must be fit tested for each one. NYCAMH is a private, non‐profit, non‐regulatory occupational health organization affiliated with Basse􀆩 Healthcare Network. Learn more at www.nycamh.org.


Upcoming Events
Farm Food Safety Meeting
December 5, 2022
Newark, NY
This meeting will focus on updates and key considerations in farm food safety. Topics to be covered include agricultural water quality assessments, traceability procedures, tips for improving flow and efficiency in wash/pack facilities, cleaning and sanitation updates, plus plenty of discussion to answer your questions.
Annual LOF Advisory Committee Meeting
December 16, 2022
Spencerport, NY
Please join us in-person for our annual winter advisory meeting where you can spend time with the team reviewing the team's educational programs and most importantly providing us feedback. Please pre-registration by December 13th.
Announcements