2022 Statewide Pink Webinar
---
Event Details
Date
April 28, 2022
Time
11:30am - 12:30pm
Location
Zoom

Host
CCE Lake Ontario Fruit Program & CCE Eastern NY Commercial Horticulture Program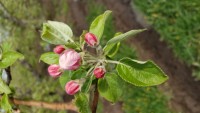 Early season precision crop load management strategies, along with pest and disease management recommendations by Cornell University faculty and Cornell Cooperative Extension Fruit Team specialists. Jointly hosted by the CCE Lake Ontario Fruit Program and the CCE Eastern NY Commercial Horticulture Program.
This webinar was recorded and is now available Statewide Pink Webinar Recording
Agenda
Craig Kahlke (CCE-LOF) - Welcome, Introductions, Plans for Future Spring Programming (5 minutes)
Dr. Terence Robinson (Cornell U) - Precision Crop Load Management in 2022 (30 minutes)
Dan Donahue (CCE-ENYCHP) - The Use of Prohexadione CA at Pink in Honeycrisp for Bitter Pit Mitigation (5 minutes)
Dr. Kerik Cox (Cornell U) - Spring Disease Management (10 minutes)
Dr. Monique Rivera (Cornell U) - Spring Insect Management (10 minutes)
No registration required, click the link at time of the webinar:
https://cornell.zoom.us/j/93872441577pwd=N2JhZWlSbExFYUp2NEVqUzdRcXhJUT09
passcode is 913325


Upcoming Events
No upcoming events at this time.
Announcements