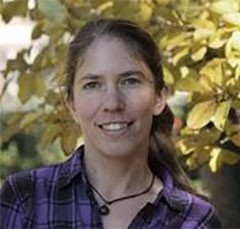 Janet van Zoeren
Integrated Pest Management
Orleans County
12690 Rt 31
Albion, NY 14411
phone 585-798-4265 ext 136
cell 585-797-8368
fax 585-798-5191
email Janet
Areas of Interest
IPM of tree fruit and berry pests, biological control, and pollinators.
Crops
Blueberries, Raspberries / Blackberries, Strawberries, Apples, Apricots, Asian Pears, Cherries, Currants, Grapes, Nectarines, Peaches, Pears, Plums, Unusual Fruit
Janet joined the Lake Ontario Fruit team in 2019 as area specialist on controlling diseases, insect pests, and weeds through integrated pest management practices. Her background includes growing up in Traverse City, MI (the "cherry capital of the world"), and since then working with a variety of fruit crops in research and extension projects. Her Master's research at the University of Wisconsin focused on biological and cultural control of caterpillars in cranberries. She has studied and worked not only in pest management, but also in plant sciences and plant-insect interactions, and brings the perspective of looking at perennial agricultural systems as an ecosystem.


Upcoming Events
No upcoming events at this time.
Announcements