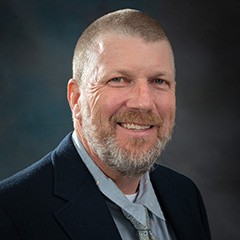 Craig Kahlke
Team Leader, Fruit Quality Management
CCE Niagara County
4487 Lake Ave.
Lockport, NY 14094
phone 716-433-8839
cell 585-735-5448
fax 716-438-0275
email Craig
Areas of Interest
Fruit Quality and factors that affect fruit quality before, during, and after storage,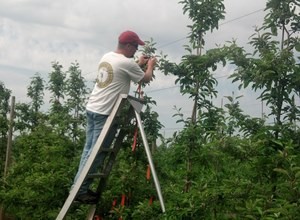 Crops
Blueberries, Raspberries / Blackberries, Strawberries, Apples, Apricots, Cherries, Nectarines, Peaches, Pears, Plums
Craig Kahlke has been an Area Extension Specialist for the CCE-Lake Ontario Fruit Program for the past six years. He specializes in Fruit Quality Management, which expands his interests to include applied research in the myriad of factors that can affect final fruit quality. Craig's primary responsibilities include harvest maturity testing of apples, postharvest storage and technology of tree fruit/berries, along with marketing of fresh produce. Food safety has been a major emphasis of his programming for the past 3 1/2 years. Craig has an M.S. in Plant & Soil Science from Texas A&M University-Kingsville and a B.S. in Biology from SUNY Geneseo. Craig has worked in agriculture-related positions in research and extension for most of the past 18 years.


Upcoming Events
Good Agricultural Practices (GAPs) Training & Food Safety Plan-Writing Workshop
February 2 - February 3, 2023
Newark, NY
Goals of this workshop:
Understand how GAPs (Good Agricultural Practices) impact produce safety, and how you can improve practices on your farm to reduce the risk of microbial contamination
Learn the difference between a FSMA Inspection and a GAPs audit, and learn what is needed to have a USDA GAP/GHP audit and the 2 types (Basic & Harmonized)
Begin writing a farm food safety plan that complies with a USDA GAP/GHP Audit
This workshop is targeted at Mott's growers who need to have a successful GAP audit for the 2023 harvest. However, all farms and organizations are invited to attend.
We will have several breaks, including a lunch break, scattered throughout the day, but feel free to step away whenever you need to. Lunch and snacks provided. Note: All times are approximate. Time spent on each topic varies depending on audience and questions/discussion. There will be time for questions at the end of each section and a final opportunity for questions when we close for the day.
Instructors Confirmed: Craig Kahlke (CCE-LOF), Robert Hadad (CCE-CVP), Caroline Boutard-Hunt (CCE-Yates), Judy Wright (CCE-Seneca), and Representatives from NYS Dept. of Ag & Mkts.
How Profitable Will My New Orchard Investment Be? 1-day, hands-on skills class
February 7, 2023
Highland, NY
The Eastern NY Commercial Hort Team and the Lake Ontario Fruit Team are offering a 1-day, hands-on course at 5 locations in NYS in January and February for tree fruit farms on using farm financial information and other resources to make decisions about long-term investments or changes to their business. We will apply the techniques covered in the 8-part webinar series in December to scenarios using sample financial data from fruit farms in NYS.
Apple Leafcurling Midge IPM - Webinar

February 16, 2023
In recent years, the apple leafcurling midge (ALCM) has become an increasingly problematic pest in many orchards across the northeast.
Announcements