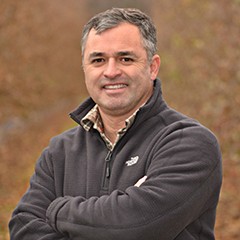 Mario Miranda Sazo
Cultural Practices
CCE Wayne County
1581 Rt. 88 North
Newark, NY 14513
phone 315-331-8415
cell 315-719-1318
fax 315-331-8411
email Mario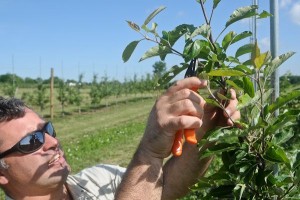 Crops
Blueberries, Raspberries / Blackberries, Strawberries, Apples, Apricots, Asian Pears, Cherries, Currants, Gooseberries, Nectarines, Peaches, Pears, Plums
Mario, a Chilean native, is an energetic person who has always had a great curiosity for horticultural science. He received his M.S. in Horticulture and Agronomy from the University of California at Davis. Prior to joining CCE, Mario spent four years at the University of Cornell running the IR-4 field research program, and six years in Chile and California as a research agronomist. In October of 2008, he shifted his career from vegetable to fruit production and began working at his current position. His main research and extension responsibilities have focused on pruning, the testing of new Cornell GenevaŽ apple rootstocks, feathering of nursery apple trees, the Tall Spindle Apple system, and orchard mechanization for higher labor efficiency.


Upcoming Events
Cornell Organic Symposium
April 24, 2019
1pm - 5pm
Ithaca, NY
This year the Symposium will have a weed management theme and feature weed ecologist Chuck Mohler as keynote speaker. Similar to last year, the Symposium will include a poster session (with snacks!).
CleanSweepNY Spring 2019 - NYSDEC Region 9
April 30 - May 2, 2019
Call to Schedule
Multiple Locations, NY
Spring 2019 CleanSweepNY collection event that will target the following counties within NYSDEC's Region 9: Allegany, Cattaraugus, Chautauqua, Erie, Niagara and Wyoming.

The deadline for registration is Friday, April 12th so please request and send in the completed registration form quickly.
Announcements