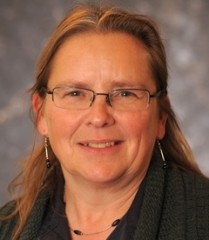 Tessa Grasswitz
Integrated Pest Management (IPM)
CCE Orleans County
12690 NYS Rt. 31
Albion, NY 14411
phone 585-798-4265 x36
cell 585-261-0125
fax 585-798-5191
email Tessa
Areas of Interest
IPM of tree fruit and berry pests, biological control, pollinators, and impact of climate change.
Crops
Blueberries, Raspberries / Blackberries, Strawberries, Apples, Apricots, Asian Pears, Cherries, Currants, Gooseberries, Nectarines, Peaches, Pears, Plums
Tess Grasswitz joined the Lake Ontario Fruit program in Spring, 2016. She is a native of Great Britain and holds a PhD in Entomology from the University of California, Riverside and a Masters in Entomology from the University of London. She has worked on the management of pests of fruit and vegetable crops in the UK and in various US states, encompassing small and large-scale production systems and both conventional and organic horticulture. She is committed to developing and implementing IPM programs that are effective, economically sound and environmentally responsible.


Upcoming Events
Cornell Organic Symposium
April 24, 2019
1pm - 5pm
Ithaca, NY
This year the Symposium will have a weed management theme and feature weed ecologist Chuck Mohler as keynote speaker. Similar to last year, the Symposium will include a poster session (with snacks!).
CleanSweepNY Spring 2019 - NYSDEC Region 9
April 30 - May 2, 2019
Call to Schedule
Multiple Locations, NY
Spring 2019 CleanSweepNY collection event that will target the following counties within NYSDEC's Region 9: Allegany, Cattaraugus, Chautauqua, Erie, Niagara and Wyoming.

The deadline for registration is Friday, April 12th so please request and send in the completed registration form quickly.
Announcements