CCE's NY Tree Fruit Conference sponsored by CCE Eastern NY Commercial Hort Program & CCE Lake Ontario Fruit Program
---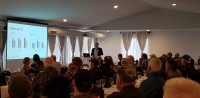 The Cornell Cooperative Extension Eastern New York Commercial Horticulture Program and the Lake Ontario Fruit Program will be cooperatively hosting the 2021 Cornell NYS Tree Fruit Conference online from Feb 2-4. Due to COVID-19 limitations on live meetings, this program replaces CCE-LOF's Winter Fruit Schools and CCE-ENYCHP's Fruit & Vegetable Conference (tree fruit section).
Live meetings will be hosted over the Zoom webinar platform, and will consist of 12 sessions over the course of three days; 2 morning sessions, and 2 afternoon sessions. DEC credits (5.25 total) are being offered for the first three sessions on February 2nd.
In addition to the live webinars, attendees will receive access to a conference webpage, which will contain vendor content, and additional educational materials relevant to each session.
Early registration price (available through January 26th) is $85 for LOFP and ENYHCP enrollees, and $95 for unenrolled farms. Prices will increase by $10 following the 26th. Please note that each attendee must sign up with their own email address in order to access the conference page, attend the live webinars, and receive DEC recertification credits. This will provide access to all 3 conference days. We are not offering a price for 1-2 days. Still need to re-enroll for LOF? Enroll online today!
Full details are available now at our conference landing page at: http://blogs.cornell.edu/nystreefruitconference/
There you'll find all the information, including full session descriptions, registration, sponsorship, and what you need to know to receive DEC credits.
Participant requirements for joining the Cornell Tree Fruit Conference:
A computer (preferred) or tablet with high-speed internet access
A computer (preferred) or tablet with video conferencing capabilities to view presentations
Download Zoom onto your computer or tablet
A quiet space to listen to presentations
Don't have access to a computer or the internet? Please reach out to Craig at 585-735-5448 for more information.
Full Schedule pdfs:
2021 NYS Tree Fruit Conference Session Schedule
Cornell Tree Fruit Conference Full Schedule
Cornell's 2021 Tree Fruit Conference Session Layout
Session Number & Title Session Approximate Time DEC Credits
1: Insect Pest Management Tuesday, February 2nd, 8:00-9:50 AM Yes
2: Phytopathology Tuesday, February 2nd, 10:10 AM-12:00 PM Yes
3: Weed Management Tuesday, February 2nd, 1:05-3:00 PM Yes
4: Fruit Quality-Postharvest Tuesday, February 2nd, 3:15-5:00 PM No
5: Precision Bloom Thinning & The Pollen Tube Growth Model Wednesday, February 3rd, 8:00 - 9:45 AM No
6: Horticulture, Orchard Canopy Management for Maximizing Fruit Quality Wednesday, February 3rd, 10:15 AM - 12:15 PM No
& Adoption of Computer Vision Technology
7: Business Management I: Economics of Fruit Production Wednesday, February 3rd, 1:15-2:45 PM No
8: Business Management II - Impact of COVID-19 on Fruit Industry Wednesday, February 3rd, 3:15-4:55 PM No
9: Extreme Weather Adaptability Thursday, February 4th, 8:00 - 9:50 AM No
10: Market/Regulatory/Labor Updates plus New Apple Varieties Thursday, February 4, 10:15 AM - 12:15 PM No
11: Honeycrisp Management I Thursday, February 4th, 1:15-2:45 PM No
12: Honeycrisp Management II Thursday, February 4th, 3:15-4:45 PM No
Thank You to Our Sponsors!



Upcoming Events
Annual LOF Advisory Committee Meeting
December 8, 2023
Spencerport, NY
Please join us for our winter advisory meeting, join the team and provide input for the 2nd Annual Tree Fruit Conference on February 8-9 in Rochester. Please pre-register by noon on December 7th.

Announcements