Sorry, Pre-Registration for has passed.
Annual LOF Advisory Committee Meeting
---
Event Details
Date
December 16, 2022
Time
10am - 3pm
Location
Ogden Town Hall
269 Ogden Center Road
Spencerport, NY 14559
Cost
Free Registration : Free
Host
Lake Ontario Fruit Program

Craig Kahlke
585-735-5448
email Craig Kahlke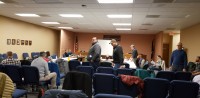 Please join us in-person for our annual winter advisory meeting where you can spend time with the team reviewing the team's educational programs and most importantly providing us feedback. Advisory meetings are important for the team to ensure that our programs and research are aligned with the industry's needs. All are invited to this FREE event! There will be a Zoom option for those who are unable to attend in person. Full agenda to follow.
Proposed Agenda:
9:30 Coffee and light refreshments
10:00 Zoom audio check, Introductions
10:15 Peruse & Approve November 2021 Advisory Minutes, please read prior, especially section and separate attachment
titled "Future Programming Format Feedback…." - which we will cover at the end of each specialist's program review and in a summary
10:25 CCE Regional Team Updates - Peter Landre
10:35 CCE County Association Updates - ED's or Craig K.
10:55 Cornell Update - Chris Watkins
11:10 Update of Advisory Committee Members/Call for nominations
11:20 Craig Kahlke - Program Review (20 minutes) + Discussion (10 minutes)
11:50 Janet van Zoeren - Brief Program Review (20 minutes) + Discussion (10 minutes)
~12:20 Lunch
12:50 Mario Miranda Sazo - Brief Program Review (20 minutes) + Discussion (10 minutes)
1:20 Summary Discussion of Future Format of Advisory Committee Meetings as they relate to Specialist's Programming Format
1:40 Business Management Specialist Position Update
1:45 LOF's Winter Conference Feb 27-28 (in-person) - "State of the Industry" idea
Overarching theme, session development/talk topics input
2:25 Statewide Winter Fruit Conference Mar 3 (virtual) w/ CCE-ENYCHP -Talk topics/input
2:40 Calendar: Other educational events
2:45 "Around the Table" - Final Thoughts
3:00 Adjourn
Please Pre-Register by December 13th at Noon to make sure we have enough lunches.
Questions? Don't hesitate to contact Craig 585-735-5448 or
cjk37@cornell.edu

Direct link to virtual option:

Click here to Join Zoom meeting
or

https://cornell.zoom.us/j/91316219811?pwd=ZlVTTEJMQS9XMWtLWVAvYkQrVGtJQT09

Meeting ID: 913 1621 9811
Passcode: 080958
One tap mobile
+16468769923,,91316219811# US (New York) 16465189805,,91316219811# US 
+(New York)
Dial by your location
        +1 646 876 9923 US (New York)
        +1 646 518 9805 US (New York)
       



Upcoming Events
Apple Leafcurling Midge IPM - Webinar

February 16, 2023
In recent years, the apple leafcurling midge (ALCM) has become an increasingly problematic pest in many orchards across the northeast.
Western NY Fruit Conference - "State of the Industry"

February 27 - February 28, 2023
Henrietta, NY
CCE-LOF are excited to bring you a muti-day fruit conference in WNY! This is replacing our Winter Fruit Schools. Tentative Agenda is now available.

Fire Blight Informational Series - Michigan Fire Blight Meeting
March 1, 2023
: Michigan Fire Blight Meeting


Traverse City, MI

The team leading the national fire blight SCRI grant "Comprehensive Fire Blight Management for the United States" is hosting a March meeting (in person or virtual) as well as a webinar series. This multi-state series will address new research on best management practices for fire blight control. You are encouraged to attend these events which will provide cutting edge research recommendations into how to manage fire blight. Each session eligible for some DEC credits (see below for quantities, and bottom of article for direction on how to receive credit).
Announcements