2017 Champlain and Vermont Young Grower Trip
August 29, 2017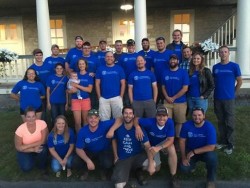 "The 2017 Champlain and Vermont Study trip was a great success and NY growers had again an excellent educational experience.
In addition, the friendships and professional relationships they made will be useful for their careers as orchardists in the near future.
Many thanks to all our sponsors, grower hosts, and to Matt Wells for organizing this successful event!"
To read a story about this trip, please visit:
http://www.growingproduce.com/farm-management/gennext-growers/young-growers-see-evolving-orchard-production-on-cornell-tour/?utm_source=knowledgemarketing&utm_medium=newsletter&utm_campaign=afgenews+08232017&omhide=true&eid=225318035&bid=1845738


Upcoming Events
Apple Leafcurling Midge IPM - Webinar

February 16, 2023
In recent years, the apple leafcurling midge (ALCM) has become an increasingly problematic pest in many orchards across the northeast.
Western NY Fruit Conference - "State of the Industry"

February 27 - February 28, 2023
Henrietta, NY
CCE-LOF are excited to bring you a muti-day fruit conference in WNY! This is replacing our Winter Fruit Schools. Tentative Agenda is now available.

Fire Blight Informational Series - Michigan Fire Blight Meeting
March 1, 2023
: Michigan Fire Blight Meeting


Traverse City, MI

The team leading the national fire blight SCRI grant "Comprehensive Fire Blight Management for the United States" is hosting a March meeting (in person or virtual) as well as a webinar series. This multi-state series will address new research on best management practices for fire blight control. You are encouraged to attend these events which will provide cutting edge research recommendations into how to manage fire blight. Each session eligible for some DEC credits (see below for quantities, and bottom of article for direction on how to receive credit).
Announcements