How to Take a Photo for Crop Diagnostics
Elizabeth Buck, Extension Vegetable Specialist
Cornell Vegetable Program
May 14, 2020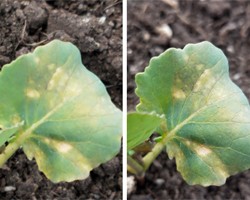 Capturing diagnostically useful images is not as simple as snapping a picture of cute children or animals.
With the current push to work remotely, using pictures to quickly address production questions has a lot of appeal and utility. I love the idea of using grower-captured photos to hasten the trouble-shooting process, especially since it isn't always possible to make prompt farm visits. But in practice it can be quite tough to work out a problem using photos because of poor image quality. High quality diagnostic photos absolutely can allow us (and other ag professionals) to make pretty confident IDs and assessments of what is going wrong.

In How to Take a Photo for Crop Diagnostics, readers will learn:
What makes a high quality image?
Things you should know
Different problems need different images
Steps for taking a high quality image
Pro tips
...plus there a several side-by-side comparisons of poor quality photos versus high quality images with tips on what changes the photographer made to take the better photo
How to Take a Photo for Crop Diagnostics (pdf; 676KB)


Upcoming Events
No upcoming events at this time.
Announcements